FOR THE FAN OF BOHEMIAN WIRE LACE
2013.03.14 Thursday
Category: ビーズニュース
Dear Friends Who Love Micro Beads In The World,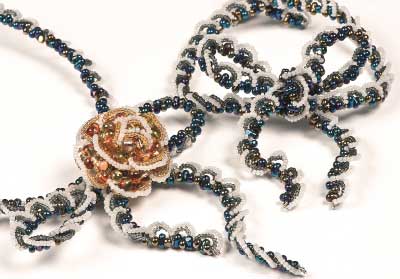 Thank you for visiting our web shop even though not everything on our shop is written in your language.
We're so pleased to inform you that we finally started selling our original
"BOHEMIAN WIRE LACE KIT VOL.1", WITH COMPLETE ENGLISH TRANSLATION
through our
US branch shop
. Anybody who lives in North American continent can order from our US branch shop.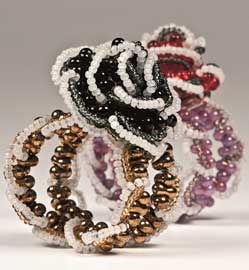 In this kit, 3 types of glass beads (micro seed beads, cut farfalle, farfalle) / 2 types of wire / brooch pins / DVD showing key techniques / 8 pages of recipe (with English translations) are included.
From those materials you can make 2 chokers, 2 bangles, 2 rings and 10 rose brooches (large 5 + small 5) - total of 16 pieces or more (as you like.) We do hope you really enjoy all these challenges!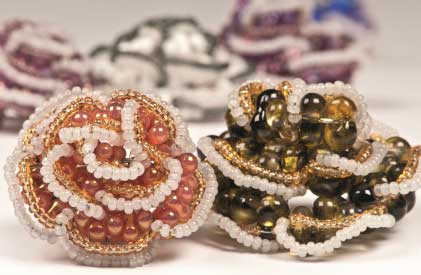 If you're interested in this KIT and you live in US, please order from
BOHEMIAN TREASURE BOX US BRANCH
. As soon as the payment is confirmed, the kit will be shipped from Japan by EMS.
If you live in Canada, please e-mail your order to US shop
(shopcontact@bohemiabox.us) directly. Soon, you'll receive the order confirmation from US shop manager, (Ms) Yukari.
For the payment, PayPal and credit cards are accepted. For further information, please feel free to contact us (info@bohemiabox.com) or US branch (shopcontact@bohemiabox.us).
We developed this fashionable, unique kit to expand the possibility of micro seed beads and enjoy them.
We hope to share this joy of micro seed beads with as many people as possible all over the world!
With Best Regards,
(Ms) Akiko Noda Ribeiro
Shop Manager / Bohemian Treasure Box Head Office
Tokyo, Japan
------------------------------------------------------------------
(和訳)「ボヘミアンワイヤーレースのファンの方へ」
世界中の極小ビーズを愛する皆さま
お店のすべてが皆さまの母国語で表記されていないにも関わらず、当店をご訪問下さり、ありがとうございます。
このたび
「ボヘミアの宝箱US支店」
より、遂に当店オリジナルの「ボヘミアンワイヤーレースキット Vol.1」を、完全英語対訳つきで発売できることになりましたことを、喜んでご報告申し上げます。北米大陸にお住まいの方ならどなたでも、US支店からご注文頂けます。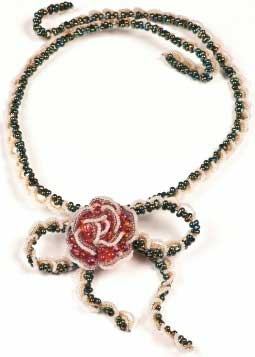 このキットには、3種類のグラスビーズ(極小シード、カットファルファーレ、ファルファーレ)/2種類のワイヤー/ブローチピン/作り方のコツが見られるようになっているDVD/8ページのレシピ(英語対訳つき)が含まれています。
この材料から、チョーカーが2つ、バングルが2つ、指輪が2つ、バラのブローチが10個(大5、小5)、あわせて16点もの作品と、(お好きにアレンジして頂いて)それ以上のものがもう少し作れるようになっています。どれを作る時にも、めいっぱいお楽しみ頂けることを願っています。
もしこのキットにご興味を持たれた合衆国にお住まいの方、どうぞ
「ボヘミアの宝箱US支店」
へご注文下さい。お支払いが確認され次第、キットは日本よりEMSで出荷されます。
カナダにお住まいの方は、どうぞUS支店(shopcontact@bohemiabox.us)
まで、Eメールで直接お申し込み下さい。すぐにUS支店店長・ゆかりより、注文確認メールが届きます。
お支払いには、ペイパルとクレジットカードがご利用頂けます。さらなるご質問がある場合には、どうぞ「ボヘミアの宝箱 本店(info@bohemiabox.com)」か「US支店(shopcontact@bohemiabox.us)」まで、ご遠慮なくお尋ね下さい。
私どもは、このハイセンスで独創的なキットを、極小シードビーズの可能性を広げ、もっと楽しむことを目指して開発しました。
極小ビーズにふれる喜びを、世界中のできるだけ多くの方々と分かち合いたいと、心から願っています。
かしこ
ボヘミアの宝箱 日本本店 
店長ビビアナこと、野田リベイル明子